May 9, 2006
One of our LA Chapter members Barrett aka 01Stealth had an accident. He's ok but...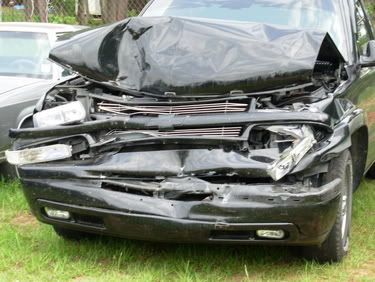 May 9, 2006
Ouch!! Sorry to hear it.....
May 11, 2006
good to see he's ok. i thought mine was bad. i could still drive and i hate looking at the front every day. is it going to get fixed??
May 11, 2006
He got in another wreck? Good to hear he wasn't injured, but man, that front end is messed up.
Fast but not Furious... Tahoe SS.
May 11, 2006
His last wreck wasnt near as bad. This time his truck is totalled. Which sux. just good that he is ok.
May 12, 2006
Ouch ! Glad to hear that he is okay . Is the truck totaled out completely ? Is there anything on it that he can try to save in case he wanted to get another truck like it ? Sorry to see that happen .
May 13, 2006
damn that looks bad... glad to hear Barretts not injured, strong trucks them chevys,stonger than the passengers, and trucks can be repaired or replaced, people cant... what'd he hit, bet that looks worse...
send him our best and hope he gets another Chevy soon
all the best
eamonn n heidi
May 13, 2006
OUCH!! What happened?
May 13, 2006
Did he get hit by someone with a brush bar? Looks like it was truck on truck
Fast but not Furious... Tahoe SS.
May 13, 2006
He ran into the back of a Furd Sport Trac.
Post Message
BECOME A MEMBER TODAY!
Join.